Posts for tag: periodontal disease
By Oxford Dental Associates
November 29, 2016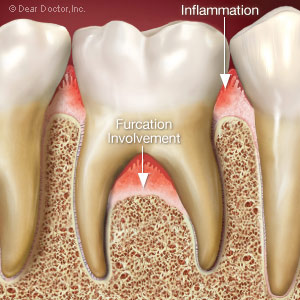 Periodontal (gum) disease is a serious matter. Not only can it wreak havoc with your gums, it could also cause bone loss in the jaw that supports your teeth.
Gum disease is a bacterial infection that originates from a thin film of food particles on tooth surfaces called plaque. If you're not diligent about removing plaque through daily brushing and flossing, it can become a feeding ground for certain strains of bacteria that trigger gum infections. Left untreated, the disease can advance deeply into the teeth's supporting structures.
We're particularly concerned about furcations, the specific locations where multiple roots of a tooth fork or separate. When these locations become infected we call it a furcation involvement or invasion. The bone along the furcation will begin to deteriorate and dissolve, following a progression of stages (or classes) we can measure by probing the gum tissue or through x-ray evaluation:
Class I: the furcation feels like a groove, but without any noticeable bone loss;
Class II: a depression of about two or more millimeters develops indicating definite bone loss;
Class III: Â bone loss now extends from one side of the root to the other, also known as "through and through."
Treating furcation involvements can prove challenging because the infection is usually well below the gum line (sub-gingival). As with all gum disease treatment, our primary approach is to remove all plaque and calculus (hardened plaque deposits) where we find it, including around the roots. We typically use specially shaped instruments to clean the root surfaces. We can also employ an ultrasonic device that loosens plaque and calculus with high-frequency vibrations and flushed away with water.
Sometimes, we may need to surgically access involved furcations to clean them and stimulate bone growth with grafting. We can also use surgery to make the areas easier to clean — both for you and for us during your regular office cleanings — to prevent reoccurrences of infection.
Of course, preventing gum disease in the first place is your best defense against oral problems like furcation bone loss. Be sure you brush and floss every day, and visit us for thorough cleanings at least twice a year (unless we recommend more). This will help make sure not only your gums, but the bone that supports your teeth stays healthy.
If you would like more information on treating periodontal (gum) disease, please contact us or schedule an appointment for a consultation. You can also learn more about this topic by reading the Dear Doctor magazine article "What are Furcations?"
By Oxford Dental Associates
February 12, 2015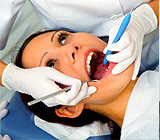 Did you know that roughly 75% of Americans suffer from some sort of gum disease? Gum disease (also known as periodontal disease) refers to the progressive loss of attachment between the fibers that connect the bone and gum tissues to the teeth, and the consequential loss of the tooth-supporting bone itself.
As you get older, your chances for developing gum disease increase significantly. Here are a few other factors that might put you at a higher risk for developing gum disease:
Family History. 30% of the population may be genetically susceptible to gum disease. Luckily, there are new tests that can assess if you are at risk. However, even with good oral hygiene, studies have shown that genetically susceptible individuals may be 6 times more likely to develop gum disease.
Tobacco. Smokers are four times more likely to develop periodontal disease. Smokers have more disease-causing biofilm bacteria and collect it more quickly. They also lose more attachment between the teeth and gums, which leads to more loss of bone that supports the teeth.
Bleeding Gums. Some people mistakenly think that it is normal for their gums to bleed when they brush. In fact, this is an indication that you are not brushing and flossing effectively and a common symptom of gum disease. Pregnant women are also more likely to have bleeding gums, because elevated hormone levels may cause gum tissues to be more responsive to bacterial biofilm, thus bleeding more easily. That is why we recommend that pregnant women have regular cleanings at three to four month intervals.
We often refer to gum disease as silent, because symptoms may not appear until the disease has advanced. For this reason, you should conduct a self-assessment to identify if you are at risk.
Have your gums receded and/or do your teeth appear longer?
Are any of your teeth feeling or getting loose?
Do your gums appear red or swollen?
Have you recently had a tooth or teeth extracted because they were loose?
If you answered "yes" to any of these questions, then you may be at risk for gum disease. You should make an appointment with our office so that we can conduct a thorough examination and prescribe treatment, if necessary.
If you would like more information about gum disease, please contact us or schedule an appointment for a consultation. You can also learn more by reading the Dear Doctor magazine article "Assessing Risk for Gum Disease."