Posts for tag: diabetes
By Oxford Dental Associates
November 11, 2021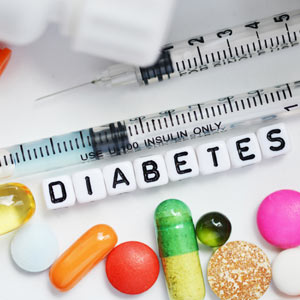 More than 1 in 10 Americans has some form of diabetes. This metabolic condition disrupts the body's regulation of glucose in the bloodstream, giving rise to health problems like slow wound healing, frequent infections and blindness—and it's the seventh leading cause of death in the U.S. It can affect every aspect of your health including your teeth and gums.
Fortunately, people with diabetes can manage it through medication, diet and exercise. Even so, the disease could still have a profound effect on physical health. The mouth in particular becomes more susceptible to a number of oral conditions with diabetes.
In recognition of American Diabetes Month in November, here's how diabetes could put your oral health at risk for other diseases and what you can do about it.
Gum disease. Diabetics are at high risk for severe periodontal (gum) disease because of a characteristic shared by both conditions: inflammation. What is normally a healing response of the body to infection or trauma becomes destructive if it becomes chronic. Studies show that, due to their inflammation connection, diabetes can worsen gum disease, and gum disease can make it harder to bring diabetes under control.
Dry mouth. Chronic dry mouth is another possible consequence of diabetes that harms oral health. It's the result of the body not producing enough saliva. Because saliva supplies antigens to fight infection and neutralizes oral acid, which erodes tooth enamel, inadequate saliva increases the risk of both tooth decay and gum disease.
Thrush. Also known as oral candidiasis, thrush occurs when the fungus Candida albicans spreads along the inside surface of the mouth. This fungal infection can produce painful white lesions that make it difficult to eat or swallow. Complications from diabetes, including dry mouth and raised glucose levels in saliva, increase a diabetic's chances of developing thrush.
Implant complications. An implant's stability depends on the healing period after implant surgery when bone cells grow and adhere to its titanium surface. But because diabetics can experience slow wound healing, the bone may not fully develop around the implant and eventually causing it to fail. Fortunately, this is less of a problem if the patient has their diabetes under control.
So, what can you or someone you love with diabetes do to avoid these oral health pitfalls? For one, practicing daily brushing and flossing—and seeing your dentist on a regular basis—is paramount for reducing the risk of any dental disease. Additionally for diabetics, consistently keeping your condition under control will likewise lessen the impact it may have on your teeth and gums.
If you would like more information about diabetes and oral health, please contact us or schedule a consultation. To learn more, read the Dear Doctor magazine article "Diabetes & Periodontal Disease."
By Oxford Dental Associates
August 06, 2013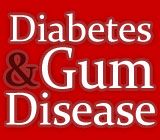 Diabetes and periodontal (gum) disease are two types of inflammatory conditions that have more in common than was once thought. There is strong evidence to show that each of these diseases is a risk factor for the development and growth of the other. Studies have also found that treating one condition successfully may have a positive impact on the treatment of the other.
From the Greek meaning "to pass through the urine," diabetes mellitus causes an abnormal rise in blood glucose level that can't be adequately controlled by insulin, the body's primary hormone for that task. Either the pancreas can't produce an adequate supply of insulin (as with Type 1 diabetes) or there is resistance to the hormone's effects (as with Type 2 and gestational/pregnancy diabetes). If you are a diabetic patient, you face many difficult issues with your health: your body develops an altered response to inflammation that may severely inhibit wound healing. You also may become more prone to chronic cardiovascular disease.
Periodontal (gum) disease describes a group of diseases caused by dental plaque, a whitish film that contains infection-causing bacteria. As infection rises within the gum tissues, the auto-immune system of the body responds to this threat and inflammation results. If the person is also a diabetic, this response may be impaired and may have a direct effect on how severe the periodontal disease progresses.
Periodontal disease can also affect your blood glucose level, if you are a diabetic. A number of studies have demonstrated that diabetic patients who have improved control of their periodontal disease through better oral hygiene and dental treatments have shown improvement in their blood sugar levels. There's even some evidence that effective periodontal treatment that reduces inflammation may improve the body's sensitivity to insulin. Likewise, bringing diabetes under control with supplemental insulin or positive lifestyle changes can help lessen the likelihood and severity of periodontal disease.
To sum it up, if you have been diagnosed with some form of diabetes, taking care of your teeth and gum tissues can have a positive impact on your diabetes. Likewise, making healthy changes in your lifestyle to bring your diabetes under control can reduce your risk for periodontal disease.
If you would like more information about periodontal disease and its effect along with diabetes, please contact us or schedule an appointment for a consultation. You can also learn more about this topic by reading the Dear Doctor magazine article "Diabetes and Periodontal Disease."