Posts for tag: bridgework
By Oxford Dental Associates
August 29, 2014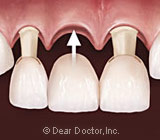 If at all possible, we want to save a tooth — it's the best outcome for your overall dental health. In many cases, we can achieve this by filling the tooth or installing a crown over it.
Unfortunately, preservation isn't always possible if the natural tooth has been irreparably weakened by decay or trauma. Replacing the natural tooth with a life-like artificial one is the next best option: the replacement will help you regain lost function and reinvigorate your smile. Filling the missing tooth's space also prevents neighboring teeth from drifting into it, causing further problems with function and appearance.
Dental implants are widely recognized as the best choice for tooth replacement because of their life-like qualities, durability and positive effect on bone health. Even their biggest drawback, their cost, isn't that great an issue if you factor in their longevity — they may actually result in less dental expense over the long-term.
A dental implant, however, isn't always a viable option. Some patients may not have enough bone mass to support an implant. Those with certain systemic diseases like uncontrolled diabetes or a weakened immune system may not be able to undergo dental implant surgery.
Fortunately, many of these patients can benefit from a fixed bridge, a restoration option that's been used for decades. A bridge is a series of life-like crowns permanently joined like pickets in a fence. The middle crown known as the "pontic" fills the empty space left by the missing tooth. The crowns on either side of the pontic are permanently attached to the natural teeth that border the missing tooth space. Known also as "abutment" teeth, they serve as the support for the bridge.
Bridges do have one downside — the abutment teeth must be prepared by filing them down so the new crowns fit over them properly. This will permanently alter and possibly weaken the teeth. Dental implants, on the other hand, have little to no effect on adjacent teeth.
Still, a bridge remains an effective option for many people. Properly cared for, a bridge can restore function as well as enhance your smile for many years to come.
If you would like more information on bridgework as a restorative option, please contact us or schedule an appointment for a consultation. You can also learn more about this topic by reading the Dear Doctor magazine article "Crowns & Bridgework."
By Oxford Dental Associates
September 26, 2012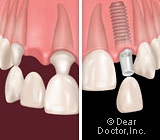 Before determining if a bridge or an implant will work best for you, here is some useful background information. There are two main parts to a tooth; the crown or part that you see above the gum line and the root portion that is below the gum line and encased in bone — the part that is replaced by a dental implant.
A dental implant is inserted into the jawbone during a surgical procedure. The implant is actually a titanium screw-like device that is placed in contact with the bone. During a 3 to 6 month healing period, it subsequently fuses to the bone. A crown made from dental porcelain, gold or a combination of both is then attached to the implant to mimic a healthy, normal tooth.
There are two critical reasons why implants are the preferred method for permanently replacing an adult tooth. The first is that they are less susceptible to gum disease and they are not subject to tooth decay. The second is that because they attach to the jawbone and not to the adjacent teeth. And while an implant may cost a little more initially, when compared to the longevity and replacement cost of bridgework over a lifetime, they may cost less.
By contrast, a fixed bridge is also a non-removable restoration or prosthesis (replacement part) that is held in place by attaching it to your natural adjacent teeth. The treatment gets its name from the French word for bridge, "pont," as the tooth being replaced is called a pontic. Before placing a bridge, the teeth on either side of the missing tooth must be prepared by removing layers of tooth enamel. Three new teeth are then crafted as a single unit from dental porcelain and/or precious metals with crowns on either side of the pontic. The pontic is held in place when the crowns are placed. Bridgework is at risk for gum disease and tooth decay and requires careful maintenance.
As with most dental procedures you have options and choices. Luckily, when it comes to determining whether a bridge or an implant will work best for you, you can rely upon our expertise. However, by having a clear understanding of these two options you are now better prepared for working with us should you require this treatment option. To learn more read the article, "Implants Vs. Bridgework." Or, contact us to discuss your questions or to schedule an appointment.