Posts for: January, 2015
By Oxford Dental Associates
January 28, 2015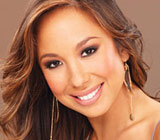 Growing up with a dentist stepdad, Cheryl Burke of Dancing with the Stars heard a lot over the years about the importance of good oral hygiene — in particular, the benefits of using dental floss.
"My dad would say, 'make sure you floss,' but I never really listened to him. I was very, very stubborn," Cheryl told Dear Doctor magazine recently in an exclusive interview. Cheryl admits this stubbornness took its toll, in the form of tooth decay. "I definitely had my share of cavities," Cheryl recalled.
Cavities can form when food particles, particularly sugar and carbohydrates, are not effectively cleaned from the spaces between teeth. These particles are then broken down by bacteria naturally present in the mouth, resulting in the production of acids that attack the tooth enamel.
When she reached her twenties, Cheryl decided she really needed to step up her oral hygiene and cultivate an asset so important to a professional dancer: a beautiful smile. And once she did, cavities became a distant memory.
"I think when you do floss frequently, it helps to reduce the chances of getting cavities," Cheryl said. "It took me a while to figure it out." Now Cheryl flosses after every meal. "I carry floss with me wherever I go. I have no shame busting out my floss in the middle of a restaurant!" She declared.
Dental decay is actually a worldwide epidemic, especially among kids. Untreated, it can lead to pain, tooth loss, and, because it is an infectious disease, it may even have more serious systemic (whole body) health consequences. The good thing is that it is entirely preventable through good oral hygiene at home and regular professional cleanings here at the office.
If it has been a while since you or your children have seen us for a cleaning and check-up, or you just want to learn more about preventing tooth decay, please contact us to schedule an appointment for a consultation. If you would like to read Dear Doctor's entire interview with Cheryl Burke, please see "Cheryl Burke." Dear Doctor also has more on "Tooth Decay: The World's Oldest & Most Widespread Disease."
By Oxford Dental Associates
January 13, 2015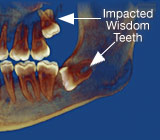 Wisdom teeth are the third set of molars that erupt in the late teens or early twenties — so-called because they come in around the age of maturity or "wisdom." While teeth are designed to last a lifetime, wisdom teeth are often problematic requiring early removal because they frequently become impacted, meaning they are not able to erupt fully through the gums to become healthy functioning teeth. However, not all wisdom teeth need to be removed if they are fully erupted and functional.
Prevention: Having a tooth submerged below the gum, pressing on the roots of neighboring teeth can cause damage and decay even though you may not be feeling any discomfort. By the time the tooth becomes painful, significant damage may already have occurred. In addition, the ability of the body to heal following oral surgery tends to decrease with age. A recent study sponsored by the American Association of Oral and Maxillofacial Surgeons and the Oral and Maxillofacial Surgery Foundation strongly recommends that wisdom teeth be removed in young adulthood in order to prevent future problems and to ensure optimal healing.
Reasons for Removal: If your wisdom teeth are impacted against (pressing on) the roots of other teeth, damage can occur. To prevent infections, gum disease, decay, or damage to other permanent teeth, our office may recommend removal of your wisdom teeth.
What to Expect: If wisdom teeth removal is recommended, it can generally be done in the dental office as a surgical procedure with local anesthesia and conscious sedation (twilight sleep). After the surgery, you may experience some moderate discomfort and swelling depending on the degree of impaction and difficulty. Taking non-steroidal anti-inflammatory medication like ibuprofen, or prescription medication for several days after surgery will provide pain relief and control swelling.
Contact us today to schedule an appointment to discuss any questions you may have regarding removal of your wisdom teeth. Read more about this topic in the Dear Doctor magazine article "Wisdom Teeth: To Be Or Not to Be?"