Posts for: July, 2014
By Oxford Dental Associates
July 17, 2014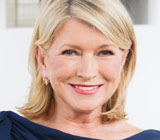 Martha Stewart has built a flourishing career by showcasing the things she's designed and made — like floral arrangements, crafts, and even home renovations. Just recently, she was showing off her latest restoration project: a new dental bridge. In fact, she live-tweeted the procedure from her dentist's office… and she even included pictures of the bridgework before it was placed on her teeth!
OK, it's a departure from paper crafts and home-made pillows… but why not? We can't help feeling that there's just as much craftsmanship — even artistry — in dental bridgework as there is in many other custom-made items. If you learn a little more about what goes into making and placing bridgework, perhaps you'll understand why we feel that way.
Bridgework is one good solution to the problem of missing teeth (another is dental implants). A fixed bridge is anchored to existing teeth on either side of the gap left by missing teeth, and it uses those healthy teeth to support one or more lifelike replacement teeth. How does it work?
Fabricated as a single unit, the bridge consists of one or more crowns (caps) on either end that will be bonded or cemented to the existing teeth, plus a number of prosthetic teeth in the middle. The solid attachment of the crowns to the healthy teeth keeps the bridge in place; they support the artificial teeth in between, and let them function properly in the bite.
Here's where some of the artistry comes in: Every piece of bridgework is custom-made for each individual patient. It matches not only their dental anatomy, but also the shape and shade of their natural teeth. Most bridges are made in dental laboratories from models of an individual's teeth — but some dental offices have their own mini-labs, capable of fabricating quality bridgework quickly and accurately. No matter where they are made, lifelike and perfect-fitting bridges reflect the craftsmanship of skilled lab technicians using high-tech equipment.
Once it is made, bridgework must be properly placed on your teeth. That's another job that requires a combination of art and science — and it's one we're experts at. From creating accurate models of your mouth to making sure the new bridge works well with your bite, we take pride in the work we do… and it shows in your smile.
If you would like more information about dental bridges, please contact us or schedule an appointment for a consultation. You can learn more by reading the Dear Doctor magazine articles "Fixed vs. Removable Bridges" and "Dental Implants vs. Bridgework."
By Oxford Dental Associates
July 02, 2014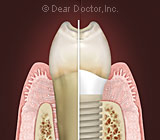 Dental implants have emerged as the premier replacement option for lost teeth. Their life-like appearance, durability and versatility have made them extremely popular with patients.
Implants aren't a quick fix, though: in most cases the process takes months to complete. Here's a chronological overview of what you can expect if you decide on dental implants.
Stage 1: Planning. The process begins at least a few weeks before the actual implantation with an examination to determine what's best for your individual case. Implant materials and designs are quite numerous, enabling us to precisely match individual tooth types, shapes, lengths and color. We then use x-rays or CT scanning to identify the best locations for the implants — careful planning here increases the chances that implantation will go smoothly and the final outcome will be aesthetically pleasing.
Stage 2: Implantation. Once we've finished planning, it's time to surgically insert the titanium implants into the pre-determined locations in the jawbone identified during Stage 1. While this procedure is relatively minor and routine, the surgeon still operates with precision and care to ensure the best functional and aesthetic outcome.
Stage 3: Integration. In most cases after implantation, we'll need to wait for a few weeks before attaching the final crowns. Because bone has an affinity for titanium, it will grow and adhere to the implant during this waiting period, anchoring it securely into the bone that will increase its long-term durability. We attach temporary teeth made of acrylic plastic (along with giving you some precautions on biting and chewing) to help you function normally during the waiting period.
Stage 4: A Transformed Smile! Once integration has been achieved and the gum tissues fully healed, we can then attach the permanent crowns. These crowns are typically made of strong, durable materials that will fit the healed gum tissues more precisely than your temporary crowns. Depending on the type of implant used, the crowns are either cemented or screwed into place onto the implant.
The process of dental implantation involves a lot of time, effort and precision. In the end, though, it's well worth it — the joy of new teeth that will function well for years and look great too!
If you would like more information on dental implants, please contact us or schedule an appointment for a consultation. You can also learn more about this topic by reading the Dear Doctor magazine article "New Teeth in One Day."