Posts for: April, 2014
By Oxford Dental Associates
April 24, 2014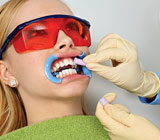 If you're looking to improve the appearance of your smile, tooth whitening treatments — whether done at home or in our office — are a popular option. Here are the answers to some questions that many people ask before they begin the process.
Q: Are commonly used tooth-whitening methods safe?
A: Yes — provided they are used as directed. A large body of research has shown that using the correct concentration of peroxide — the bleach that whitens teeth — for the proper amount of time is not known to cause any major health problems. However, there have been cases where poor-quality bleaching solutions and/or excessive usage have caused deterioration of tooth enamel and extreme gum sensitivity. Always follow our office's recommendation.
Q: Does this mean I have to have in-office treatments to whiten my teeth?
A: No. But you should come in for a thorough dental examination, with x-rays, before you begin whitening treatments. Why? Because if there is trouble with the underlying tooth structure, then whitening the tooth is like painting over rusty metal: It hides the symptom, but doesn't fix the problem. Abscesses and root-canal problems are just two of the underlying causes of tooth discoloration that should be treated before teeth are whitened.
Q: What are some different methods for whitening teeth, and how long do they take?
A: The fastest is in-office whitening treatments, using a strong bleaching solution and appropriate gum protection. Next comes the cost-effective method of at-home bleaching with custom-made flexible plastic trays (sometimes called nightguard vital bleaching.) If you're not in a hurry, over-the-counter (OTC) products can do the same thing — given enough time. One study comparing different whitening treatments found that a six-shade improvement in whitening was accomplished by three in-office treatments. A week was needed for custom-tray bleach applications, or 16 daily applications of OTC products, to achieve comparable results.
Q: Can any tooth be made bright white?
A: No. Every tooth has a maximum level of whiteness, beyond which it can't get any lighter. Furthermore, fillings, crowns and other dental restorations can't be lightened with bleach — another reason to talk to our office; we can help you achieve the best possible look for your particular smile.
Q: How long will my white teeth last?
A: It depends. No whitening method is permanent, but the typical result lasts for up to two years. To preserve that bright smile, you can take some positive steps: Avoid tobacco and beverages that stain, like red wine, tea and coffee; keep up with regular cleanings in our office; and, practice good oral hygiene at home. You can also have a touch-up treatment once or twice a year.
If you need more information about tooth whitening, or you're ready to start the process, please contact us or schedule an appointment for a consultation. You can also learn more about this topic by reading the Dear Doctor magazine article "Important Teeth Whitening Questions Answered."
By Oxford Dental Associates
April 09, 2014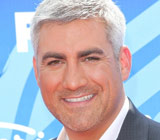 Like many who have risen to the top tier in show business, singer Taylor Hicks found that he needed a few things (besides talent, of course) to really succeed: a willingness to seek out opportunities and work hard; a unique and energetic stage presence; and a bright, appealing smile.
"Everyone wants to have a great smile," Hicks recently told Dear Doctor magazine. "In my business, it's one of the most important things. A lot of what I do is smiling and having fun, being in front of the camera and taking pictures."
To help him keep his smile sparkling, Hicks opts for in-office whitening treatments from his dentist. These treatments are a safe, quick and effective way to lighten teeth by 3 to 8 shades in a single one-hour visit. Best of all, you don't have to be an American Idol winner or a Las Vegas headliner to take advantage of them — in fact, we offer them right here in our own office.
Why choose in-office treatments instead of take-home trays (or over-the-counter products)? While each system can be effective at lightening teeth to some degree, the in-office method offers several distinct advantages. For one, it's the fastest way to get your teeth as bright as they can be; the same lightening that can be achieved in one office visit could take a week when done at home, using custom-made trays and dentist-supplied bleaching solutions — and several weeks with over-the-counter products! So if your time is limited, in-office treatment is the way to go.
Plus, in-office treatments are performed under our direct supervision. That means we can safely use the most powerful whitening gels, and achieve the maximum control over the result. This can be important when you have crowns or replacement teeth such as implants, which Hicks has. Artificial crowns don't whiten like natural teeth, so it's important to get just the right degree of lightening to produce an evenly bright smile.
The bottom line, of course, is the result: a dazzling white smile. "In entertainment, a big, pearly white smile makes a difference," Hicks said. But you don't have to be an entertainer to enjoy the benefits of a brilliant smile — we do it for plenty of "regular folks" too.
So if your smile could use a little brightening, why not call us and schedule an appointment for whitening treatment? You can learn more in the Dear Doctor magazine articles "Teeth Whitening" and "Important Teeth Whitening Questions Answered."