Posts for: February, 2013
By Oxford Dental Associates
February 17, 2013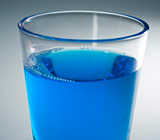 In our office, many of our patients are always asking us if over-the-counter (OTC) mouthwashes or mouthrinses are truly effective tools for curing bad breath. Unfortunately, nearly all of them merely mask any odorous smells temporarily — regardless of how refreshing they taste. There are mouthrinses available that are effective for treating gingivitis and tooth decay, but you must visit our office to obtain a proper diagnosis and a prescription for them. Reality is that a mouthrinse alone can't cure bad breath; however, there are products available that can make a positive impact on your dental health. The key is to match the right mouthrinse to your specific dental need.
OTC mouthrinses that contain about 0.05% sodium fluoride are an effective tool that when combined with good oral hygiene can significantly reduce the development of tooth decay.
OTC mouthrinses that contain alcohol, triclosan, sanguinaria extract, zinc and/or essential oils such as menthol can somewhat help reduce the bacteria in plaque, which in turn can reduce gum inflammation (gingivitis) and bad breath when used in combination with proper brushing and daily flossing.
Prescription mouthrinses containing chlorhexidine may be more effective in helping to control both gingivitis and tooth decay in certain circumstances. This is because chlorhexidine inhibits the formation of dental plaque by preventing bacteria from sticking to your teeth.
While bad breath may seem unbearable, it is often treatable. The key is to determine and then address what is causing your bad breath. A simple trip to our office for a proper exam, assessment and thorough cleaning along with improved oral hygiene may just do the trick. Contact us today to schedule a consultation for an examination and treatment plan.
Learn More
To learn more about mouthrinses, read the Dear Doctor article, "Mouthrinses."
By Oxford Dental Associates
February 03, 2013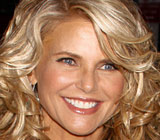 Model Christie Brinkley's smile has been a symbol of America's optimism since the seventies. Particularly well known for being the cover model for three consecutive Sports Illustrated Swimsuit editions, Brinkley still has a fresh-faced American girl-next-door beauty that starts with her cheerful smile, which transmits the message that all is well.
Brinkley's modeling career began when she was "discovered" in Paris in the seventies, at the age of 18. As she explained in an interview with Dear Doctor magazine, it was like a fairy tale. She had gone to study art in Paris, where a fashion designer spotted her walking down the street. "He told me later he immediately thought, 'That's the girl!'" she said.
Brinkley attributes her famous smile to a combination of good genetics (she inherited her mother's "beautiful straight teeth"), combined with the intelligence to practice good oral hygiene and have regular dental appointments. She never needed to have work done to prepare her for the modeling life; but as a teenager, she said, she wished she could wear braces because she thought the "coolest kids had them."
Although dental restorations were not needed to enhance her beautiful natural smile, she did have two dental implants after she fractured two rear molars in a bad helicopter crash while back-country skiing, and she says she is thankful for dental implant technology because it looks and feels so natural.
Brinkley said that her smile led directly to her assignment as spokesperson for a brand of oral rinse and mouthwash products. She is also concerned about the environment. Her company Christie, Inc. is designing environmentally friendly products.
Her advice to everyone is to smile more. "I think a smile makes EVERYONE beautiful! It's the greatest gift we give each other... It's an expression of friendship, love and peace!"
If you have questions about your smile, contact us today to schedule an appointment. Or you can learn more by reading the Dear Doctor magazine article "Christie Brinkley's Supermodel Smile."